National Dress Up Your Pet Day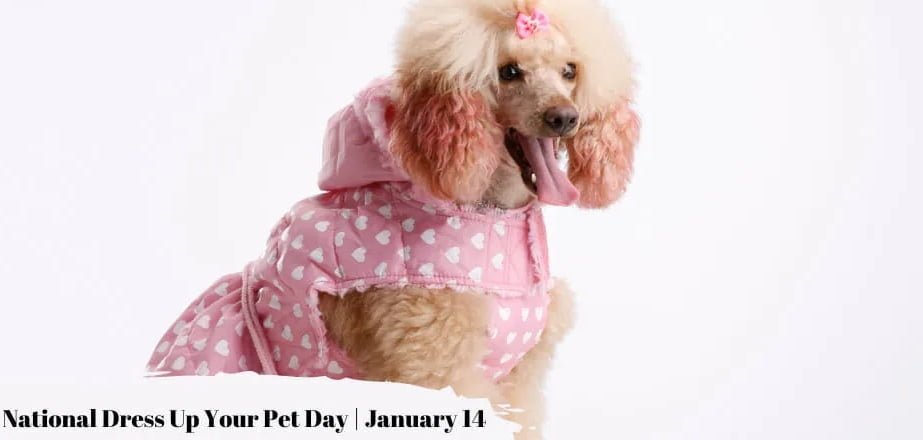 National Dress Up Your Pet Day on January 14th provides a special day to celebrate with your pet and show off their fashion style. Pets do become part of one's family. Whether you take a visit to the groomer or take it a step further and dress up in matching outfits, be sure your pet companion is safe and comfortable.
#NationalDressUpYourPetDay
Please remember to keep your pets safe and comfortable in the pet clothing and costumes that you choose.

Tips for dressing up your pet:

If your pet just doesn't like dressing up, let them sit this holiday out.
Be sure it fits. Restricting movement or ability to breathe can cause injury or illness.
Many pets like to chew. Avoid loose or dangling pieces which can cause choking hazards.
HOW TO OBSERVE NATIONAL DRESS UP YOUR PET DAY
The name of the day tells you how to celebrate it; dress your pets up! Keep your pet's comfort first and foremost. A visit to the groomer for a bit of polish and trim always improves our pet companion's appearance. Get a snazzy bandana, bow, or collar to show off the fresh do. How about a sweater for chilly, long walks? If the tutu is too, too much, your pooch will let you know. Be sure to share your favorite pet poses with us. We love to see how you #CelebrateEveryDay. Use #DressUpYourPetDay to post on social media.
NATIONAL DRESS UP YOUR PET DAY HISTORY
National Dress Up Your Pet Day was founded in 2009 by Celebrity Pet Lifestyle Expert and Animal Behaviorist, Colleen Paige.
Related Events