National Day of Encouragement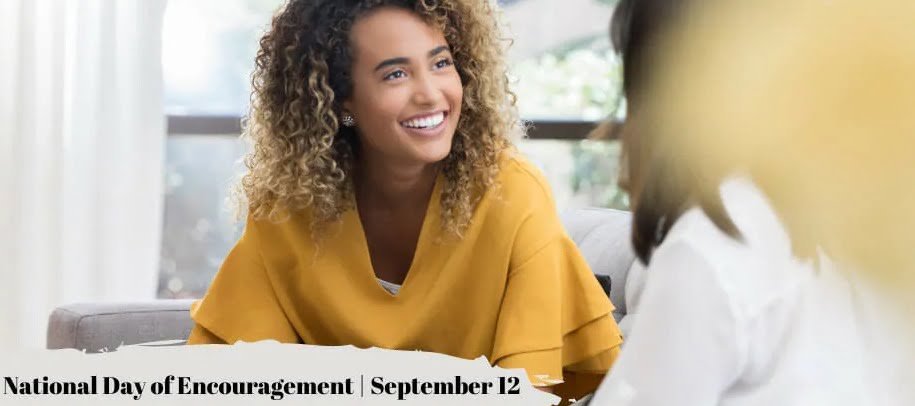 September 12th recognizes the National Day of Encouragement each year. This day is dedicated to uplifting people around us and making a positive impact.
#NationalDayOfEncouragement
Encouragement is free. It never costs us anything to say a few words to inspire a student, coworker, or friend. Even a reassuring word to a stranger may make a difference in their lives.
Encouragement lifts someone when they are down. It also motivates a person who has an eye on a goal. When we have failed, the right words remind us to keep trying. The right message may create a spark that changes a loved one's perspective.
Sometimes, the act of noticing a job well done improves someone's day. Developing a habit of recognizing emerging talents motivates us to speak up and offer a kind word or helpful tip. It is a practice worth having to improve relationships at work, at home, and in the world around us. There really is no simpler way.
HOW TO OBSERVE NATIONAL DAY OF ENCOURAGEMENT
Acts of encouragement require so little – a bit of time, the right words, and noticing accomplishments, even small ones. Encourage someone you know in many ways:
Let them know you noticed their progress.
Provide reassurance and inspiration to the people around you.
Give a High five to someone for a job well done.
Take notice when a friend is getting close to a hard-earned goal, encouraging them to keep going.
Send a card or give a call or text to a family member who may be struggling.
Show your support by attending a friend's performance, sporting event or exhibit.
Use #NationalDayofEncouragement to share on social media.
NATIONAL DAY OF ENCOURAGEMENT HISTORY
The Encouragement Foundation at Harding University in Searcy, Arkansas, launched the effort behind Day of Encouragement. Mayor Belinda LaForce of Searcy, Arkansas, made the first proclamation for Day of Encouragement on August 22, 2007. The following month, Arkansas Governor Mike Beebe signed a proclamation making September 12, 2007, the "State Day of Encouragement" for Arkansas.
Later, President George W. Bush also signed a message making September 12th the official National Day of Encouragement.
Encouragement FAQ
Q. What are some benefits of encouraging others?
A. Encouragement offers several benefits to the receiver.
1. The person learns that someone notices their efforts.
2. It serves as a reminder that even difficult goals take time.
3. The receiver might learn they have a skill they didn't know they had.
4. Encouragement can spark new energy in a goal that has languished.
5. It can mark progress. Some tasks or goals may evolve so slowly that it's hard to see how far we've come. It offers a new perspective.
Encouragement can also be beneficial to the giver.
1. It is self-motivating. Seeing the renewed passion in someone can also reignite our passion for a project or goal.
2. When we encourage others, we often reflect on our past success and how we achieved it. That reflection reminds us that goals are not meant to be easy, and we should continually challenge ourselves.
3. Encouragement helps us be better role models. When we encourage someone, we strive to set better examples.
Source: National Day Calendar
Related Events