Feeling blue without a special someone to send your valentine to this year? Longing for a cuddly partner on these chilly winter nights?
Well, there are lots of eligible singles on North Meridian Road who would love to get your holiday greeting. In fact, you'll probably be hard pressed to find a more enthusiastic date, especially if there's dinner involved. They come in all shapes and sizes, and they don't ask for much, really — just to be loved and to love you in return.
For the ninth year, Friends of Fido is sponsoring For the Love of Dogs, asking people to send a Valentine with a dollar inside — or more if you're able — to a dog at the Mahoning County Dog Pound. You can mail cards to Friends of Fido, P.O. Box 2963, Youngstown 44511, and you can pick your furry Valentine at www.friendsoffidomahoning.org.
FoF is a non-profit organization that pays the veterinary bills for the pound pups. Those bills really add up. Last year, the organization, which runs on donations and money raised through fundraisers, spent more than $140,000 for veterinary care for the dogs, up from the usual $100,000 annual cost. While a dog wouldn't do anything to break your heart, some of their stories might.
"We had Pizza who was shot in the face," said Shirley Tkalec, FoF's president. "We had Bandit who was shot in the head. We had Gypsy who had her leg amputated because she was hit by a car and not treated within a reasonable amount of time. We had Nino who also lost a leg — we're not sure what happened — but you could see the bones and everything. It's like the skin was eaten away."
Gypsy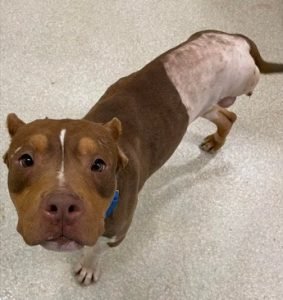 NINO
Those dogs have healed from their injuries and been adopted or taken into rescue, thanks to the veterinary care paid for by FoF. Other pups arrive to the pound with relatively minor issues that need attention, like worms.
Most of the pound dogs come in as strays. Someone calls the pound about an injured, neglected or abandoned dog or one that's wandering neighborhood and pound personnel go pick it up. Friends of Fido volunteers transport the dogs to their vet appointments as well as foot the vet bills. Without FoF, the dogs wouldn't receive the needed care and would face the possibility of euthanasia.
FoF started about 11 years ago and Tkalec estimates that the group, which includes 12 people, pays for vet treatment for about 150 dogs each year. It's a labor of love.
"Some people like their dogs," Tkalec said. "We like all dogs. We care about all the dogs. It's a passion." She admits it's often heartbreaking. "But then you realize one day a dog comes in, like Gypsy that needed emergency surgery and all that, and we had the money to do it," Tkalec said. "That makes you feel good."