This past weekend, the children at Akron Children's Hospital of Mahoning Valley received the gift of a soft, cuddly teddy bear from The Hope Foundation of the Mahoning Valley.
Through the Foundation's DreamCatchers for Kids TM program, the children created their own special teddy bear including the name, the clothes they would wear and the accessories right from their hospital beds. The wish list was picked up by the volunteers and taken to the Build-A-Bear Workshop in the Southern Park Mall. All the bears were made and then delivered back to the children at the hospital by the nurses.
"Whether it's a boy or girl, young or teenage, early teenagers — who doesn't love a bear? It's just something, even if it's just to keep you company maybe, when family is there, just having something to hold onto," Gabriel said.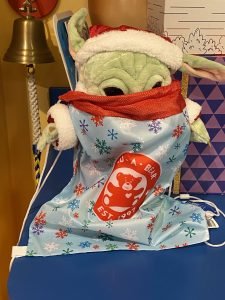 For over 100 years, teddy bears have been bringing smiles to people's faces and warming their hearts. And the best part is that when a child is feeling down, scared or not well they can reach for the teddy bear and hold onto it and hug it to help ease their fears. The bears provide support and comfort to children who are battling serious illnesses, and this has always been the mission of The Hope Foundation of the Mahoning Valley.