Independence Day (USA)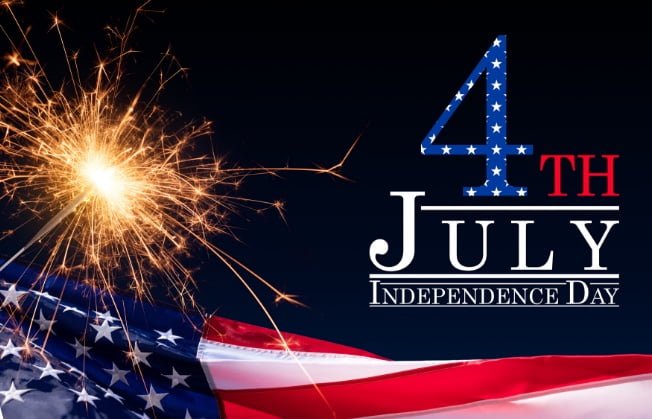 INDEPENDENCE DAY
Each year on July 4th, the United States celebrates Independence Day. This federal holiday commemorates the adoption of the Declaration of Independence on July 4, 1776, declaring independence from the Kingdom of Great Britain. 
For nearly 250 years, the country has been celebrating a day in history that inspires us still today. On July 4th, communities host speeches and ceremonies across the nation. Across the country, people crowd cities for parades and festivals. Cities deck the streets in red, white, and blue bunting and flags.
Families and friends also gather for some of the most mouthwatering food – large picnics and barbecues, local fairs provide a taste of culture and mom's home cooking, too. With so many converging on their hometowns, family and school reunions take place.
Fire Works
Before the day is over, many communities hold spectacular fireworks displays re-enacting moments of victory. Patriotic music accompanies the performance while spectators view the show from blankets strewn along capital lawns or from boats floating in bays. Whether our National Anthem, "The Star-Spangled Banner" or "God Bless America," many will sing along. In some locations, music will be played by a live orchestra or band, while in other areas it's pre-recorded. Some of the most popular on the playlist are "America the Beautiful," "My Country, Tis of Thee," "This Land Is Your Land," "Stars and Stripes Forever," "God Bless the U.S.A.," "Yankee Doodle" and "Dixie."
In some parts of the country, people will shoot their own fireworks while children delight in the bright colors and sparklers. They roast marshmallows and make s' mores.
HOW TO OBSERVE #IndependenceDay #July4th #4thOfJuly #FourthOfJuly
Spend the day celebrating independence. Attend local events or travel the nation to see friends and relatives.
At noon, a "Salute to the Union" is fired, each July 4th, by any capable military base. This is a salute of one gun for each state in the United States. 

In 2009, New York City hosted the largest fireworks display in the country. 

Held since 1785, the Bristol Fourth of July Parade in Bristol, Rhode Island, is the oldest continuous Independence Day celebration in the United States. 
Share your celebrations using #IndependenceDay, #July4th, #4thOfJuly, FourthOfJuly on social media.
Related Events