Join us for the 5th Annual All-Inclusive Trunk or Treat sponsored by Myers Family Insurance and Rulli Brothers and presented by Miss Dana's Diamonds and Elisa's Entourage on Saturday, October 22nd at the Canfield Fairgrounds Event Center benefiting The Walnut Grove and another special needs charity in our local area to be announced soon.
What's new for 2022?
Thanks to our Event Sponsors-Myers Family Insurance and Rulli Brothers as well as our inclusive supporters Karen Conkey and Kathy Cain, we are able to move the event inside to the new Event Center to ensure the safety of all guests and participants! We are so thankful to the fairgrounds and all our supporters!
*The first 600 participants will receive a bag thanks to Easy Auto Ship!
*Characters by Castle on a Cloud all day! Sponsored by Kathy and Kylie Cain
*DJ Jeff Dunn and Entertainment sponsored by Yurchyk & Davis CPAS's Inc.
*Free Cotton Candy and Popcorn thanks to The Walnut Grove, The Smith Family and Yurchyk & Davis CPA's Inc.
*A variety of Inflatables Thanks to  Confetti House!
*Free kids coupons by local places
*Free Make and Take Crafts sponsored by Brian Blevins.
* FurEver Friends Therapy Dogs
*Boo-ti-ful display wall by Balloon Doctor sponsored by Kathy Cain.
*Sensory Spot sponsored by SPOT Therapy Kids and Darlene Corfman.
*Photobooth by Tim Hickman sponsored  thanks to an anonymous friend
*Bubble Machines and Fogger by Rob Baldwin
* ALL NEW pumpkin decorating contest for special needs- sponsored by Bill and Karen Veri.
*Interactive Inflatable games
*Hair Tinsel Station sponsored by Kristina Pavlicko
*Porgie the Clown sponsored by Komara Jewelers
*More to announce soon!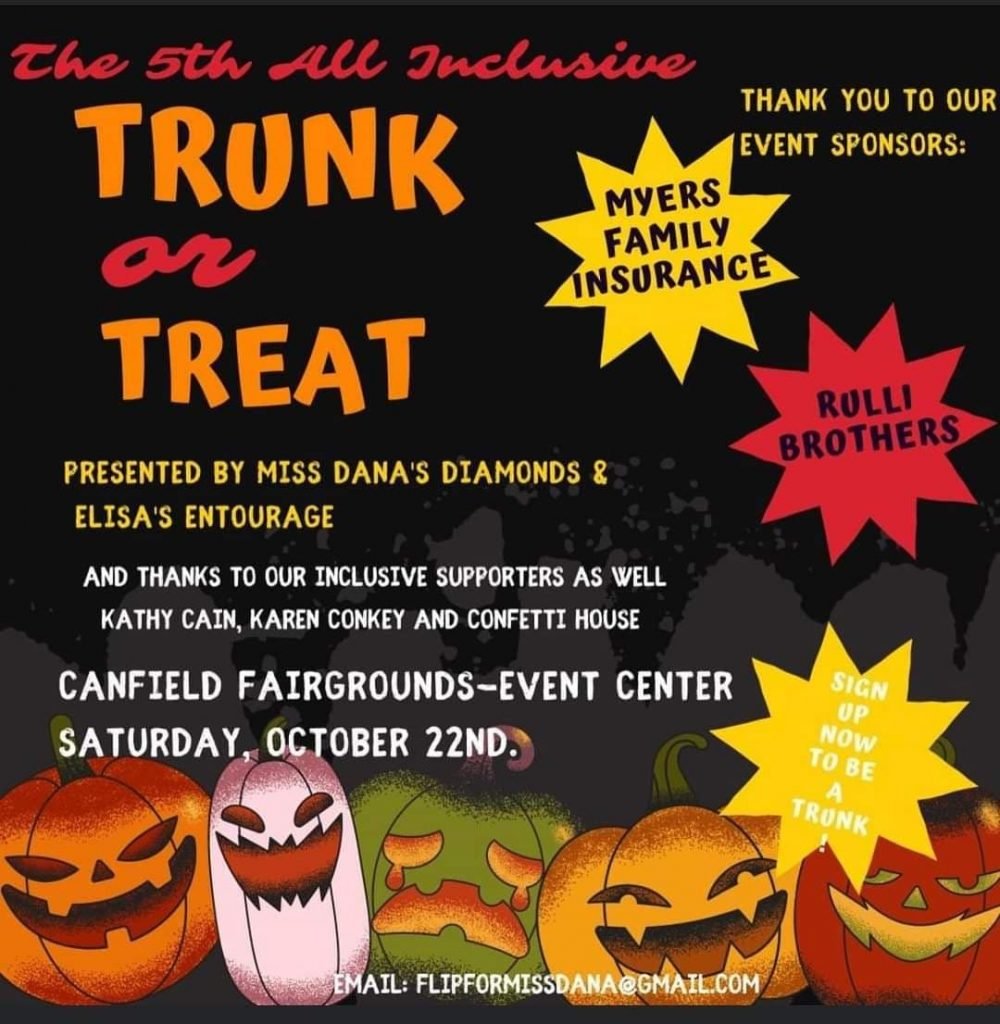 From 9 am-11am will be reserved sensory time from our friends with special needs and their families. Those with special needs are free and siblings are $5. This time is quieter and made to give them a chance to move at their own place and explore as well as enter for a chance to win a variety of fun and sensory prizes for free! We also offer each person with special needs a fun sensory item.
From 12 pm-2pm will be all other friends including those with food allergies. $5 a person. You will be able to pre-register to get tickets for both friends with special needs and all other friends soon online. At the door is cash only.
Parking is available close for those with handicap plaques and additional parking for all others off route 46 into the fairgrounds. Attendants will assist you parking.