Christmas Card Day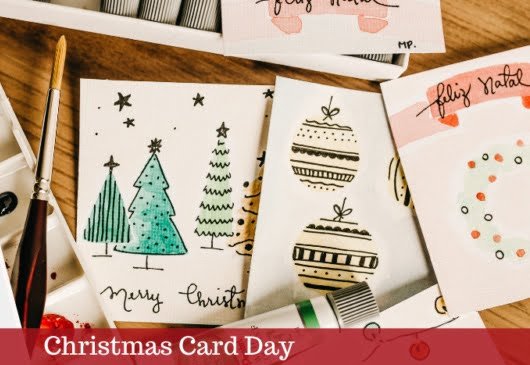 Each year around this time, friends and families begin mailing their holiday cards. Christmas Card Day on December 9th serves as a reminder to get your stamps, envelopes, and cards together so you can share your holiday cheer.
Sending a card during the holidays hasn't always been a tradition. In Victorian England, sending Penny Post was inexpensive and frequent. It was also considered rude to ignore a written message. One particularly popular Victorian invented the holiday card out of necessity. Sir Henry Cole received frequent letters, and it left him little time for other responsibilities. In 1843, he asked his friend J.C. Horsley to illustrate a design he had in mind. Soon, Cole was off to the printer, and he mailed the first Christmas card in the Penny Post to friends, family, and many acquaintances.
Today, we mail a variety of cards at Christmastime. The tradition of Christmas cards continues in a broader sense. Social and electronic media keep us connected in this modern world more than ever before. However, the Christmas card continues to be a part of our annual tradition, even if it takes on a different style or pattern.
Photo cards – Many families take an annual holiday photo specifically for mailing to friends and family. These photos may be snapshots or professional photos. Most families save them from social media, so they remain a surprise when they arrive in the mail, too.
Christmas letter – These letters often highlight the events for each family member for the year. Not everyone has social media, so it's a nice way to catch up with friends and family. The letters usually run a page in length, but some letter writers have a lot more to say.
Postcards – These simple cards generally send the same holiday message a regular Christmas card does, but without a fold or an envelope. With a photo on one side and a simple message on the other, they are quick and easy to send, too.
Business card – Christmas cards also come from businesses who want to remind us they still want our business. As a marketing tool, businesses know their best customers like to be remembered during the holidays, too.
New Year's cards – The holidays do get busy, and some of us put off sending any holiday cards until New Year. They still want to keep in touch with family and friends, so they send their good wishes in the form of a Happy New Year card. So, don't mark anyone off your Christmas card list until after the first of the year.
These holiday cards may be the only communication we receive all year long from a friend or family member. Even if we spent an abundance of time with them once, these once-a-year notes touch us with a bit of meaning this time of year. We take the time to connect once again and say, "We're thinking of you."
HOW TO OBSERVE #ChristmasCardDay
Update your mailing list. Gather the stamps and pick out your favorite card. Will you be writing personal notes on each card? Or will you send a mass letter? Dress up the pets or family members for a last-minute photo, too. Get ready to be glitter bombed as the holiday cards begin pouring in your mail studded with Ho Ho Hos! and holiday greetings of all kinds. Share your favorite Christmas card style by using #ChristmasCardDay on social media.
CHRISTMAS CARD DAY HISTORY
While the origins of Christmas Card Day continue to be researched, Sir Henry Cole does receive credit for creating the first Christmas Card in 1843. However, the idea took several years to find its way to the United States. In 1850, Louis Prang immigrated from Prussia and opened a print shop in Boston. He mastered many methods of lithography from around the world, and after encouragement from his wife, he began producing floral Christmas cards in 1875.
Related Events