National School Picture Day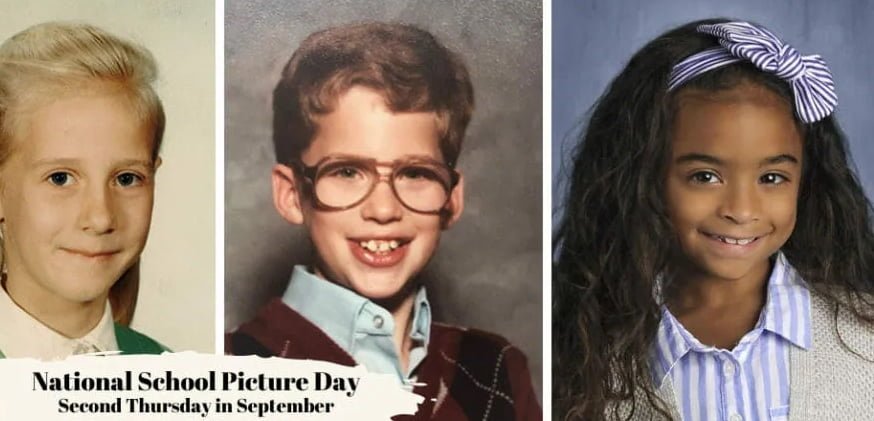 On the Second Thursday in September, National School Picture Day reminds us to put on our best smiles.
#NationalSchoolPictureDay
Picture Day creates memories that last a lifetime. Not only that, but the day makes moms and dads radiate with pride and joy. Whether they capture the first toothless grin or the start of adolescence, school pictures are a tradition dating back generations. They mark time, much like the hash marks on a growth chart. By graduation day, families bring their children full circle. A complete collection of pictures chart their children's primary and secondary school years.
While school pictures capture milestones, they also create a feeling of belonging. As they fill yearbooks, finding their place among the pages gives them a sense of their school community. Additionally, a school picture serves as a tangible reminder of their school-aged years.
HOW TO OBSERVE SCHOOL PICTURE DAY
Dig out your favorite school pictures. While you are reminiscing, be sure to share them on Facebook, Twitter, and Instagram. Tell us your favorite memories. Of course, each era claims outstanding style points – big hair, big collars, bold colors. What were yours? We all change and your children will, too. Be sure to capture all the important moments on school Picture Day. Use #NationalSchoolPictureDay and #FrameItAll to share your Picture Day moments on social media.
NATIONAL SCHOOL PICTURE DAY HISTORY
Lifetouch founded National School Picture Day in 2019 to celebrate the annual tradition of Picture Day. For over 80 years, Lifetouch has been taking school pictures for millions of children annually in the US and Canada. During the 2nd week of September (usually that Thursday) they photograph the highest volume of children annually – millions!
In 2019, the Registrar at National Day Calendar proclaimed the second Thursday in September to be observed as National School Picture Day annually.
Related Events