National Play Day with Dad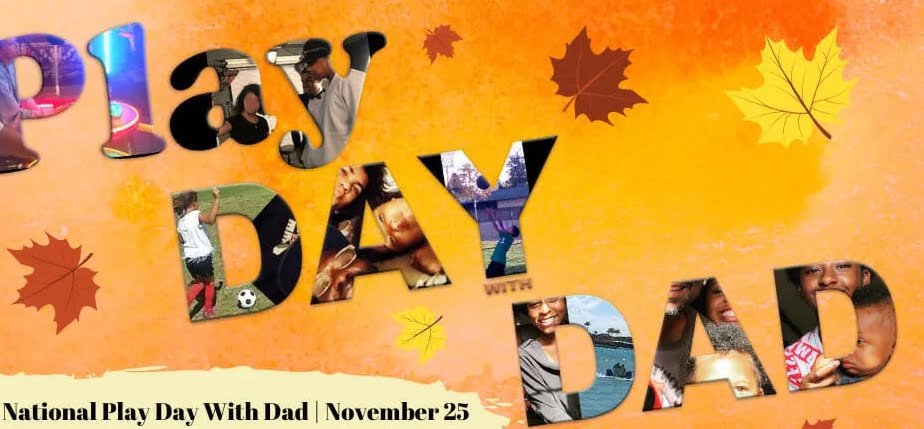 On November 25th, National Play Day With Dad encourages fathers to spend the day focused on fun with their kids. It's a day designed for bonding and memories.
#PlayDayWithDad
A dad play day allows the children of fathers a focused time to bond. For busy dads, the observance provides an opportunity to get to know one another better. Some dads may choose to make positive memories. Others may want to schedule time to take pictures and capture those new memories as keepsakes. The day also gives men a chance to become the real heroes every child and community needs.
Fatherhood is a grand experience. It even leads to great dad experiences. Investing in our children and their memories and adventures teaches them more than just how much we care. It provides them with a foundation they rely upon for a lifetime. They will continue to grow and build upon those gifts we give them. And someday, we will enjoy the rewards of their happiness and success. Sometimes, that includes the love they share with their children of the next generation.
HOW TO OBSERVE PLAY DAD WITH DAY
Dads, set the day aside. Clear your schedules and focus on your children.
Find out what interests your off-spring and pledge to join the fun.
Find out what interests your off-spring and pledge to join the fun.
Play arcade games together.
Love, hug, smile, dance with your children.
Have a photo-shoot with your family.
Play a ball game together.
Watch your child compete in something.
Join your off-spring (adult children) while they are working on a project (at work).
Tell your child stories about your father, and share your family history.
Ask your child – How can I be a better father?
Promote positive fatherhood.
Read a book to your children.
Share with us how you're spending the day using #PlayDayWithDad socially. And share pictures of your dad, and tell Share Our Style Foundation about him. Like, Share, Comment your support socially to illustrate positive images of fatherhood.
NATIONAL PLAY DAY WITH DAD HISTORY
Share Our Style Foundation National Play Day With Dad in 2019 to remind fathers that their most important role in life will be to be a hero to their children. Every other role falls to the wayside when children come into our lives. Being a good parent stands out more than anything ever will. When we ace that job, we make the whole world better. Join Share Our Style Foundation in their mission for excellence in parenting.
In 2019, the Registrar at National Day Calendar® proclaimed National Play Day With Dad to be observed on November 25th, annually.
Related Events