National Day of Mourning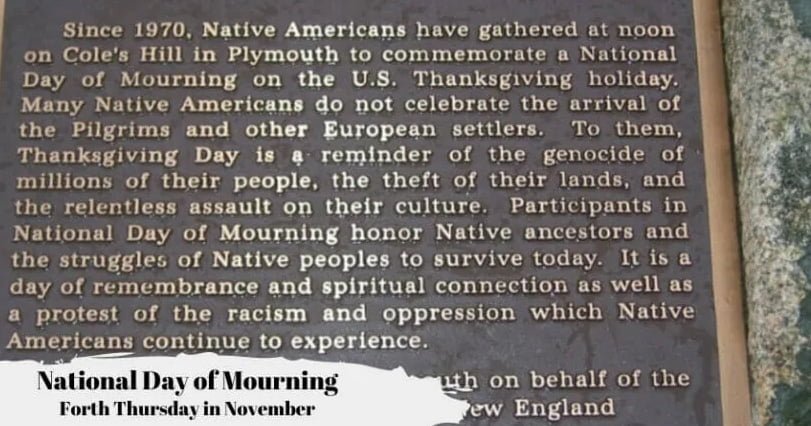 Each year on the fourth Thursday in November recognizes the National Day of Mourning. The observance is an opportunity to reflect on Native American heritage and the role Thanksgiving played in the lives of their ancestors.
#NationalDayOfMourning
The organizers of this observance consider Thanksgiving Day as a continued reminder of the democide and suffering of Native American people. Since 1970, participants in the National Day of Mourning have honored Native ancestors and their struggles to survive today. Part of the mission behind the event is to educate Americans about the history of Thanksgiving.
Organized by United American Indians of New England (UAINE) during a period of Native American activism, the march has brought about revisions in the depiction of United States history and government and settler relationships with Native American peoples as well as a renewed appreciation for their culture.
HOW TO OBSERVE NATIONAL DAY OF MOURNING
Consider taking another look at American history and the many varied Native American cultures all across the United States. Examine the relationships, traditions, customs, beliefs. Are you looking for a place to start? An excellent resource is firstnations.org. They offer a comprehensive reading list for all ages. The topics are varied and provide recommendations from their staff as well.
For streaming options, look for films like Our Spirits Don't Speak English, Dreamkeeper, Atanarjuat: The Fast Runner, Imprint, or The Cherokee Word for Water.
Use #NationalDayOfMourning to post on social media.
The Hidden Christmas Gem in the Valley: Kraynak's Christmasland still bringing joy to young and old alike
NATIONAL DAY OF MOURNING HISTORY
Since 1970, an annual march and rally organized by United Americans Indians of New England take place on the fourth Thursday in November, the same day as Thanksgiving. They honor Native ancestors while educating the American public. While the event coincides with a similar protest, Unthanksgiving Day held on the West Coast, the two events are unrelated.
Related Events