FaLaLa – Ward Bakery Market
November 19, 2022 @ 12:00 pm

-

5:00 pm

EST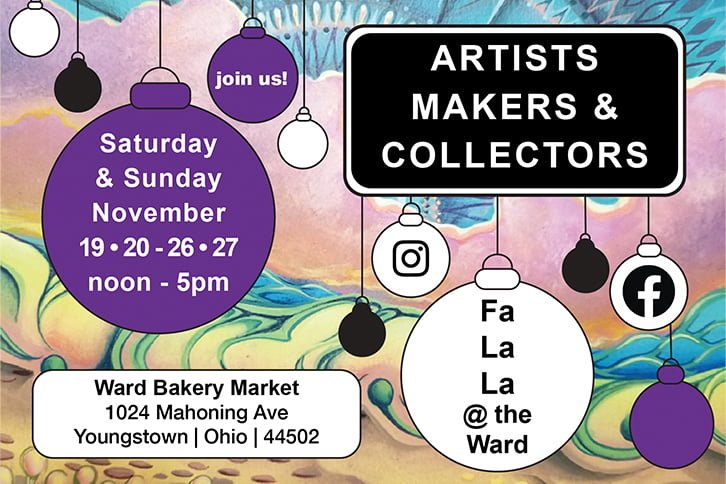 FaLaLa at the Ward Bakery Market will be held on Saturday, November 19; Sunday, November 20; Saturday, November 26; and Sunday, November 27 from 12:00pm-5:00pm. The event will feature painting, jewelry, sculpture, pottery, fiber art, soap, mixed media, drawing, printmaking, photography, digital art, records and tapes, custom woodwork and vintage furniture and accessories.
Participating Youngstown Area Artists, Makers and Collectors:
Dean Anshutz/Adam Berry – Cycle Breaker's Records and Tapes, Rich Berg of Pancake Maples, Tony Armeni – sculpture, Bird's Vintage – Mid Century Modern furniture, Carole Donaldson – fleece shawls and scarves, Lynn Cardwell -pottery and fused glass, Susan Crisan – Sandpiper Soap Co., Rick Fisher – photography, Tara Flynn – fine art and textiles, Hector Gonzales – painting, Jen Hill – painting, Marisa LaGuardia – LaGuardia Clay Works, Nick Levinsky – Urban Industrial Concepts- furniture, LeAnn Lewis – painting, jewelry and ceramics, Maryann Limmer – pottery, Robyn Maas – photography and mixed media, Lauren Potts-Novotak – Lunalu Artisan Jewelry, Angela Pandolpf – Sustainably handcrafted accessories, Radio Hoop – jewelry and accessories, Tracy Segreti – acrylic and silk painting, Georgia Tambasis – mixed media, Sara Tkac – hand dyed goods.
Food: Slow Hurry Coffee pouring Branch Street Coffee, Susan Payton will be serving scones, cookies, sandwiches, soup and pierogies.
Free admission. Parking is free. For more information, visit the Ward Bakery Market Facebook page.
Related Events